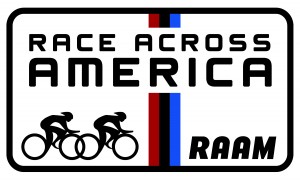 Race Across America is one of the longest and toughest endurance cycling event in the world. In 1982, RAAM began with four solo riders with teams being added in 1994. But make no mistake, RAAM is a race. The course is about 30% longer than the Tour de France and riders must finish in half the time allowed for the Tour. Not only that, this race is open to professional cyclists and to amateurs as well. Cyclists come from all over the world to compete in RAAM making it an extremely competitive field of athletes.
The course for the race covers 3000 miles, crosses 12 states and has a vertical ascent of over 170,000 feet. As you can see by the map below, we will race literally from sea to shining sea starting in Oceanside, California the second week in June and ending in Annapolis, Maryland. Teams such as ours will race non-stop 24 hours a day regardless of weather, illness, darkness, or misdirection with the hopes of finishing in 7 days or less.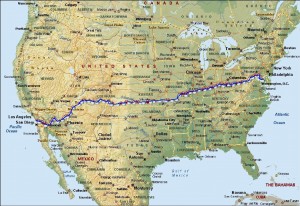 We won't be doing this race totally alone. We will assemble a top crew of around 10 people who will co-ordinate our race. The crew is an essential part of our racing strategy. Sometimes functioning as map readers, guides, cooks, coaches, psychologists, errand runners, and sleep deprived zombies, they will refine and direct every aspect of the race ensuring not only our safety but our drive to finish as the top women's team in the race in 2013.
You might be wondering how many women race RAAM. Not many. The ones who do come away with an achievement to last a lifetime and for us that means not only an athletic achievement but also one for our state. We intend to show what women can do at any age by subscribing to an active, healthy lifestyle that begins in childhood but can be adopted at any age.
To read more about RAAM and the current racers for 2013, visit their website at www.raceacrossamerica.org.